Welcome To Our Academy
A Bridge between You and the French Speaking Community
Welcome to The Classic French Academy, Online School for French Language.
Founded in 2017, The Academy has set for itself the mission to be a bridge between Non-French Speakers and the French Speaking Community spread around the globe. Our mission is to help people who don't speak French join the 274 millions French Speakers living in France and around the world through One-on-One Online French Lessons.
Since it's opening, students from all around the world come at The Classic French Academy to receive French lessons online that will help them, day by day, to bridge the language gap separating them from French Speakers. Step-by-step, from Complete Beginners to Experts in French, we deliver One-on-One French Lessons personally tailored for each student.
If you were searching for a way to reach and be part of the French Speakers' Community, you are now at the right place. We are this bridge you were looking for to become a member of the French Speaking Community.
Please, enjoy your visit on our website and go to our contact page to reserve your Free Trial French Lesson Online. We are impatient to discuss with you how we can help you to learn one of the most beautiful languages in the world : French language.
Gil Filiot
French Teacher & School Founder
Your French Classes
One-on-One French lessons personally tailored for you
Beginners' French Lessons
Discovery and High Beginners
The Discovery and High beginners' levels are certainly the most important levels in the process of learning french. They are the grounding bases upon which students will build the entire architecture of their French for the rest of their lives. Let's start to learn a clean French Pronunciation and build upon it.
Learn more about
the content and objectives of the A1 and A2 levels
Intermediates' French Lessons
Threshold and High Intermediates
Students now feel confortable with their basics. It's time to consolidate the prior knowledge and build extensive vocabulary around all the tenses of the indicative mode. Students are on the threshold to conquer autonomy. They will soon have the level to travel and meet the French Speaking Community with ease.
Learn more about
the content and objectives of the B1 and B2 levels
Advanced and Mastery
Autonomy has been conquered. Students start to be able to think and even dream in French. They will soon speak fluently, read almost any kind of text, write with ease, express very complex ideas and understand French Speakers without much effort. It's time for students to perfect their French and master the beauty of it.
Learn more about
the content and objectives of the C1 and C2 levels
French Lessons For Teenagers
Teenagers Learn French
Today's teenagers are born in the digital world. Digital communication and learning online are nothing artificial to them. The digital world can even be the place where their attention is stimulated the most. Parents who would like to improve the results of their children in French expression or Literature are welcome to meet Gil.
Learn more about
the Teenagers Learn French classes by requesting a meeting with Gil
French Conversation Lessons
Conversation Classes
Conversation classes are an excellent way for students to keep their French in shape, enrich their vocabulary and gain confidence expressing themselves. A relaxed and fun atmosphere will allow students to speak about the themes of their choice in one-on-one or group sessions with a private teacher. Quality materials picked from the internet will support the conversations.
Learn more about
the conversation classes with Gil
French Lessons For Businesses
French For Businesses
Businesswomen and businessmen, as well as international civil servants and employees can only be right by learning French to boost their career. With several years experience in teaching French to European Institution's workers, Gil helps adults to learn French for career purpose. Teaching based on the recommendations of The Commerce Chamber of Paris.
Learn more about
how the language of Diplomacy can
Prepare for Diplomas
Students now feel ready to validate their proficiencies by passing one of the internationally recognized diplomas proposed by The French Ministry of National Education. Exams can be passed in 1000 exams centers around the world and there is an exam for each level of the CECR (A1 to C2). Gil helps candidates to prepare for the TCF, the DELF and the DALF online.
Learn more about
how Gil can help to prepare for exams
Your French teacher
Qualified and Experienced
Gil
Born in Lyon in 1983, Gil lives since 2008 in Brussels, the French speaking heart of Europe.
In 2013, he got his certification in Teaching French to Analphabets from the renowned belgian association Lire et Ecrire. During one year, he teached French to the analphabet public and newly arrived immigrants in diverse non-profit organisations in Brussels.
In 2014, he chose to become a full-time private French Teacher for Expats in Brussels and since then, he continues to help foreigners to learn French. He has successfully taught a hundred students coming to the Capital of Europe from all over the world. Some of them now live definitively in the French speaking heart of Europe.
Living for several years five hundred meters away from the European Institutions, he had the privilege to teach and give the taste for French to tens of adults working at the prestigious European Commission, European Council, European Parliament and United Nations in Brussels. Teenagers studying at the European School in Brussels came to him to level up their results in French expression and Literature.
In 2017, he successfully passed a second certification in teaching French as a foreign language with The Alliance Française, the DAEFLE.
That same year 2017, he opened his own Private School Online and is now teaching French for The Classic French Academy.
Learn French Step-by-Step
With Reality-Proof Methods
The communicative and action oriented approach
The Communicative and Action Oriented Approach is clearly defined by the European Common Framework of Reference for Languages. It sets, for each level from A1 to C2, groups of competencies the learner should target and conquer in order to become a user of the language. For example, the A1.1 complete beginner level states that students should be able to :
Introduce themselves, spell their name, tell their nationality, tell which language they speak
Ask people to introduce themselves
Count
Communicate in the context of the class
Greet someone
Ask and give someone some personal information
Talk about their hobbies and their dreams
Therefore, to become a user of the language means that, in real-life situations, being able to effectuate predefined language actions and being understood by interlocutors are the best proof-test for students to check if they are progressing in their learning. Street life is the proof-test and students should be encouraged to test their competencies in real-life situations like in shops, office environment and friend circles outside of the class. Inversely, classes should reproduce street-life-like situations, with role-plays like phone conversations, office meetings, friends at the cafe, etc., in order to prepare students for these situations.
The subordination of teaching to learning
How to make learners of French think the language?
The second method combined with the Communicative and Action Oriented Method is a Problem-Solving approach that considers language as a set of problems students have to meet, solve and conquer. The subordination of teaching to learning method is a method that states that the learning process should have the primacy over the teaching process. Teachers do not teach, they let learners learn from problems they meet. Teachers do not tell, they present inductive materials from which students start to deduce and find the answers.
This pro-active method has been invented by the great educationalist Caleb Gattegno, who created the Silent Way Method to teach languages. This method emphasizes on the inductive-deductive processes of learning proper to human beings and on the continuous feedback given by teachers to students to guide them through their learning processes. Teachers provide inductive materials while students spend energy meeting, thinking, understanding and mastering these new language materials.
This method is aimed at producing not only users of the language, but also thinkers of the language. Pro-active problem-solutionners. It is aimed at producing learners of French who methodically construct, think, conquer and finally see cognitively the entire architecture of the language. "Oh! Now I understand!", comes repeatedly all along the learning process.
In our classes, the progressive construction of the entire architecture of French language, from complete beginners to mastery levels, is taught thanks to this inductive-deductive method that make students think while discovering.
And as a good example has more value than a long speech, can you guess what the following document is made for? Please, come for a Two Hour Trial Class to give to Gil your answer and work on it with him.
Observe and guess what this document is for. Click to enlarge.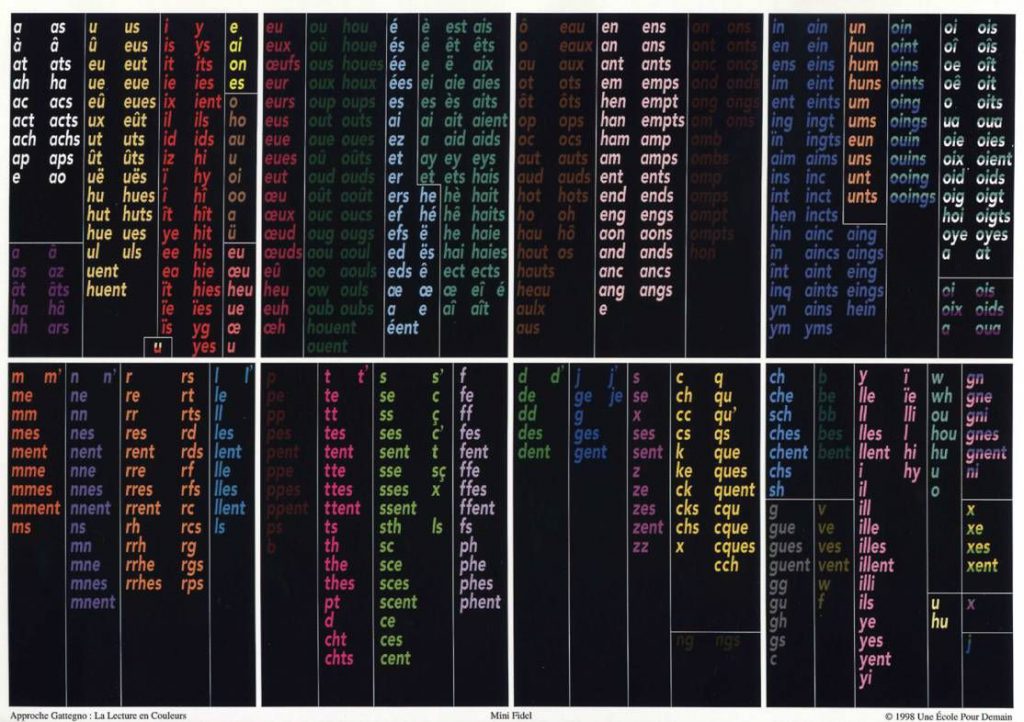 Download Your Virtual Classroom Online
And learn French from the comfort of your Home
Zoom on your classroom
Classes are taught online with Zoom, the best software for online teaching.
Screen sharing, collaborative whiteboard, video and audio conferencing are only some of the best features you will use in your classroom. The one-minute-to-install software will allow you to learn French from your office, your home, a café or wherever in the world you want to be learning. Classes' videos can be recorded and sent to you after the class as well as the written lessons taught on the whiteboard.
Click on this link to download the latest version of your Zoom Virtual Classroom. The installation is automatic, free and totally safe : https://zoom.us/j/6450671947
For more info on zoom.us software, visit their website : Zoom.us
Headquarters
The Classic French Academy Asbl
Company Number : BE0678.547959
info@theclassicfrenchacademy.com
+32 (0) 465 97 32 37
Rue du Brochet, 53
1050 – Ixelles
BELGIUM
School Founder & French teacher
Gil Filiot
info@theclassicfrenchacademy.com
+ 32 (0)465 97 32 37
44, rue du Marteau
1000 – Brussels
BELGIUM